We bring the party to you.



Choose your activities
Juggling
Using traditional circus equipment like scarves, balls, rings, or clubs, our staff will have your party juggling like pros in no time.


Tightwire & Balancing Arts
Balance with the best of them and learn the stunning, sweet and simple art of Tightwire, Rolla Bolla, Pedalo, and Rolling Globe.


Object manipulation
Chinese Yo-Yo, Flower Sticks, Feather Balancing, Plate Spinning: enjoy these unique circus apparatuses.
Clowning
Be goofy. Free your inner child and take a walk on the silly side. Use clowning to share laughter and joy with your friends or coworkers in a supportive environment.


Acrobatics
Roll across the floor. Try standing on your head. Learn a cartwheel. Test your limits with this physically dynamic art.

All circus packages include instructors, equipment rental and all taxes and fees for event.




Make it a Team Building Event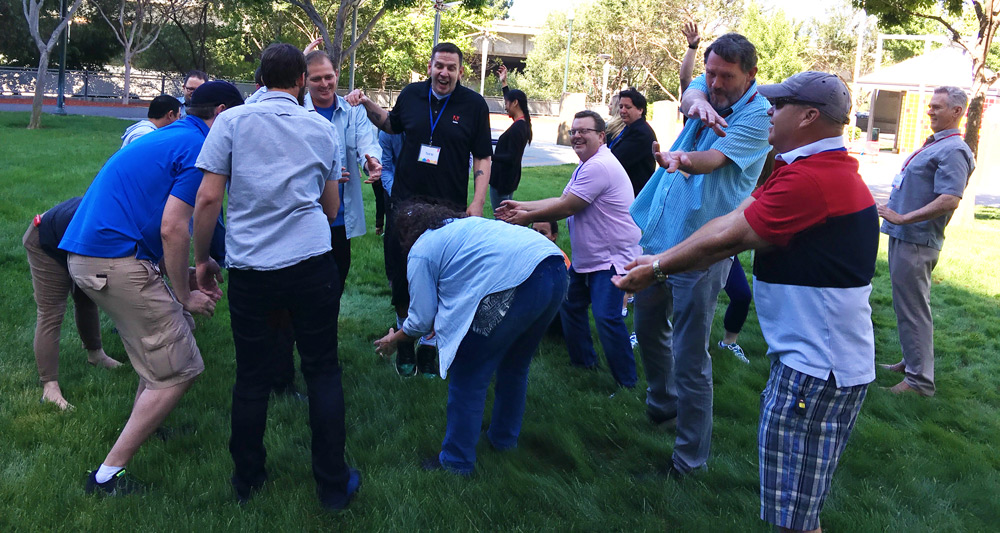 Team Building Events include multiple team building exercises and games! Through working in partnership or small groups, Circus Center creates a safe and supportive environment for your team to better trust and communicate.

Party Packages
However large or small, Circus Center has the perfect formula to customize your experience for a truly unique event.

Choose from one of the following packages, or create your own:


10 people, 2 hours, 2 activities | $1000
20 people, 2 hours, 3 activities | $1500
30 people, 2 hours, 4 activities | $2000
40 people, 3 hours, 5 activities | $2800
50 people, 3 hours, 6 activities | $3500
"It was so much fun!! And it met all of our needs (getting people moving, outside but close to the rest of our event, breaking ice/building comfort levels with one another, learning a new skill, observing a different kind of "service" in action than we're used to, and building the team. I would highly recommend to other teams doing offsites/onsites. Thank you!"
Adobe Employee
PREMIUM Activities

To further enhance your event, choose one of our add-on activities! Add-on activities incur additional cost due to specialized staffing or equipment needs.


Human Pyramids
Build exciting shapes by stacking people.


Stilt Walking
Use hand-held stilts to walk, dance, jump, and frolic!
Mini-Trampoline
Enjoy this fast-paced, high energy introduction to acrobatics and tumbling. With an extra bounce, Mini-trampoline is sure to be an activity your guests will love!
Unicycle
Pedal your way to glory using this one-wheeled cycle!
Aerials
Take to the sky. Learn cool tricks on various aerial apparatuses. Take photos of your guests suspended in the air!
CANCELLATIONS
Cancellations made more than 30 business days before the event will incur a $25 cancellation fee. Cancellations made 10-30 business days prior to the event incur a fee of 10% of the total event cost. Cancellations made 3-9 business days prior to the event incur a fee of 50% of the total event cost. No refund is given when a cancellation is made within 72 hours of the event.


RESCHEDULING AND ADJUSTMENTS
Adjustments to the size of your party must be made 5 days prior to the scheduled event date to prorate the total cost.
We will accommodate movement of reservation dates when possible. Reschedules made more than 30 business days in advance incur a $25 rescheduling fee. Rescheduling made 10 – 30 days in advance incur a 10% rescheduling fee. Rescheduling made 9 business days prior to your event, or closer incur a fee of 50% of the event total.