SAVE YOUR SHOULDERS
Shoulder Injury Prevention for Circus Artists

Are you at risk for shoulder injury?

This highly interactive, two-hour workshop will lead you through a battery of circus-specific strength and flexibility tests to determine your injury risk during participation in circus activities. You will receive either a pass/ fail score on each part of the test, and will be instructed in specific exercises for the components that you did not pass. At the end of the workshop, you will have a comprehensive injury-prevention plan of exercises, mobility drills, and stretches that is specific to YOU and your body! You will also be instructed in the BEST warm up and cool down routine that will both optimize your athletic performance AND prevent future injuries!

Extensive foreknowledge is not necessary and there is no maximum age for this workshop, but students should be at least 16 years old so they can understand all the topics covered in the workshop.
Monday November 6th, 20176:30 pm - 8:30 pm$65/person - All sales are final

BOOK
Please use book button provided here
to purchase this workshop or your spot may not be correctly reserved.
Dynamic Technique for Rope and Tissu
Dynamic movement has become an integral piece of Rope and Fabric/Tissu work in the last 10 years. Harnessing momentum in the air opens up a whole new range of skills, transitions and ways of moving through the air. When we become proficient at these techniques and pathways, we increase our power and strength in the air, while at the same time decreasing the amount of effort required.

In this workshop, we will endeavor to perfect the techniques required to maximize your power and grace in the air; engagement, timing, pathway and release. This workshop would be beneficial to any student wishing to improve their beat technique in the air and is an essential step in mastering advanced release moves on vertical apparatuses.

Designed for intermediate students, and though experience in beats is not necessary, it is helpful. For ages 16 and up.
Saturday October 21st, 2017
1:30pm - 3:30pm
$65 - All sales are final
Please use book button provided here to purchase this workshop
or your spot may not be correctly reserved.

BOOK
Release Technique for Rope and Tissu

One of the main reasons for perfecting dynamic technique is to harness enough power to create a moment of weightlessness. In this magical fraction of a second we have the opportunity to release, twist, flip and slide. Learning these specific skills removes the predictability of wrapped drops and adds a dynamic and explosive quality to choreography.

In this innovative workshop, students will build on their existing knowledge of dynamic movement, teaching them new entrances into wraps, open drops, and a range of release moves. Students of various levels will be guided through these skills with the appropriate progressions so they can continue the mastery at home.

This workshop is designed for intermediate to advanced level students, who feel comfortable with dynamic technique/beats. For ages 16 and up.


Saturday October 28th, 2017
1:30PM - 3:30pm
$65 - All sales are final
Please use book button provided here to purchase this workshop
or your spot may not be correctly reserved.

BOOK
ABOUT ALEX ALLAN
From Sydney, Australia, Alex moved to San Francisco in 2009 to train in Circus Center's Professional Aerial Program. Since graduating in 2011 Alex has worked as a choreographer and an aerialist with companies such as Teatro Zin Zanni, Acrobatic Conundrum and Zaccho Dance Theatre. As a coach, Alex works closely with his students to facilitate an embodied understanding of efficient movement pathways and dynamic aerial technique. He also has a deep passion for aiding his students in the development of their own authentic movement quality. In his 10 years as a coach Alex has taught workshops in Europe, Asia, Australia and North America, most recently completed a workshop tour of the U.S. covering 30 studios in 15 states. Influenced by his background in theatre, Alex is committed to the art of storytelling. He seeks to explore and present the human experience, believing in the potential of movement to convey that which words cannot. His extensive education in theatre, circus and dance has inspired him to blend the boundaries of these physical mediums, creating a unique style of performance. Alex is currently in collaboration with renowned NY choreographer Mike Esperanza.
---
Workshops with Shannon Maguire
& Philippe Renaud
Cyr Wheel


This workshop is designed for those who are just learning to waltz, to those who have mastered the basics and are working on more advanced movements. We will review simple waltz step variations, with a focus on proper form and grounding, and touching on the various techniques for initiating the waltz.

Students can then move on to more complicated movements including half turns, full turns, coin spins, and cartwheels. There will be a focus throughout on finding control and predictability in each movement through an understanding of why and how it works.

Advanced duos looking to work together could take some time here to focus on duo cyr work. This workshop is open to a wide level of abilities, students only need to be able sustain a waltz for at least 15 seconds, though more advanced students are equally encouraged to attend!

For ages 16 and up.
Saturday November 11th, 2017 11am - 1pm | $65


BOOK
All sales are final.
Please use book button provided here to purchase this workshop or your spot may not be correctly reserved.



ABOUT PHILIPPE

Philippe Renaud graduated from the National Circus School of Montreal with a major in hand-to-hand balancing, and a minor in cyr wheel. He and his previous hand to hand partner won a bronze medal in the Cirque de Demain Festival in Paris, France. Phil spent almost five years performing both his solo cyr wheel & partner hand to hand acts all over Europe and North America. He has been seen in everything from German cabarets to the renowned Cirque Eloize show, ID.
Drops Galore
Aerial Tissu Drops

In this workshop, students will explore the vast world of drops on the aerial fabric, and their numerous variations, including slack drops, rolls, drops that wrap their way up the tissu, and drops like the star drops that wrap at the top. Drops will be approached through progressions, walk downs, and understanding the wraps, so that all participants can approach the moves with safety and confidence.

Students should be comfortable with inversions (without cheating!) in the air, hip locks, and have a knowledge of basic aerial drops.

For ages 16 and up.
Sunday November 12th, 201711am - 1pm | $65
BOOK
All sales are final.
Please use book button provided here to purchase this workshop or your spot may not be correctly reserved.



ABOUT SHANNON

Shannon Maguire first fell in love with the air when she started learning tissu as a young adult. Coming from an artistic gymnastics background, she took to it immediately, studying with Juliana Neves of Cirque Du Soleil's show Dralion and Veronique Thibeault from Montreal's ENC. She performed tissu in Cirque Le Masque in Colombia, Cirque Dreams in the Mediterranean and in South Korea, as well as with Cirque Eloize of Montreal. But, it was a duo trapeze act with a former partner that took her around over the world, winning them a bronze medal in the Wuqiao festival in China, as well as the public's choice award in the Latina, Italy Circus Festival in 2012. She has since performed the world twice over, and it was after a tour of American military bases in South Korea, that Shannon decided to add Cyr Wheel to her ever growing circus repertoire.

This workshop will focus on the basics of partnering in the air, and how to create efficient and safe movement between two people on the trapeze. Students will learn proper techniques including catcher's lock, tempos, and synchronized movements, and will experiment with supporting each others body weight, and exploring ways to move with two people on a trapeze. Some of the vocabulary covered will include the mounting and lowering of a flyer to the bar, spin combinations, basic duo shapes and movements, and the use of counterbalance.

Students should have the ability to invert, previous aerial experience, and be comfortable working closely with others. A good foundation in solo trapeze is recommended, but not essential. NO PARTNER NECESSARY! Come with a partner, or on your own ready to work with new people.

For ages 16 and up.
Sunday November 12th, 20172pm - 4pm | $50
BOOK
All sales are final.
Please use book button provided here to purchase this workshop or your spot may not be correctly reserved.



PHILIPPE & SHANNON

Philippe and Shannon started working together in 2014 to create a duo act on the cyr wheel, taking a common solo apparatus and exploring the possibilities and challenges of making it a duo act. The result is an intense, fast-paced, stunning blend of emotions and acrobatics that makes use of both of their respective backgrounds. They have performed everywhere from Switzerland's "Young Stage" festival to Lebanon, Turkey, and China, working for companies from Cirque du Soleil to Germany's Circus Roncalli and GOP Theaters. Currently, they are touring the US performing and teaching.
June 3 – 29, 2018
APPLICATION DEADLINE: February 5
SCHEDULE
Each day students will take 2 classes, totaling 3-5 training hours.
Classes will be held between noon - 9pm.
SAMPLE SCHEDULE:

Monday: Injury Prevention and Contortion
Tuesday: Hand Balancing and Acrobatics
Wednesday: Contortion and Specialty Workshops
Thursday: Acrobatics and Active Flexibility
Friday: Semi-Privates and Hand Balancing/Conditioning

Note: Most days will also have open gym time scheduled


DATES, RESTRICTIONS, AND COST
Dates: June 3-29, 2018
Ages 17 and up
Cost: $2500
Limited space. Students must be accepted in order to attend.


PAYMENTS
March 5: Deadline for $500 non-refundable deposit
April 16: Deadline for remaining balance

HOW TO APPLY
Click the button below to fill out the application form, plus submit an audition video (max length 5 min, see application form for details), no later than February 5, 2018. Admissions notifications will be sent out no later than February 19, 2018. No early admissions.



Cancellation fee:
Between April 14 and May 4, a client can be refunded 50% of the total tuition, less the $500 non-refundable deposit.
After May 4 no refund given.



FAQ

Is this program suitable for beginners?
Short answer, no. This program is designed for students who have had previous flexibility or contortion training. That said, everyone is encouraged to apply!

Why don't you have a minimum skill level?
Everyone's body is different. Some skills that are considered standard contortion skills might be hard for certain people because of body type/proportions, training experience, etc. I don't want to discourage people to apply because of body type. We do hope that everyone who applies is able to go in and out of a chest stand relatively easily though.

Do I need to find my own housing, or will housing be provided?
You are responsible for finding your own housing. There are resources on this website, or you can ask the circus community as there are usually people looking to sublet their rooms during the month of June.

Is there an age limit?
Technically no. The program is designed more for students 17-30, but you will not be turned away solely based on age if you are over that. (Every past intensive has had at least 2 people over 30)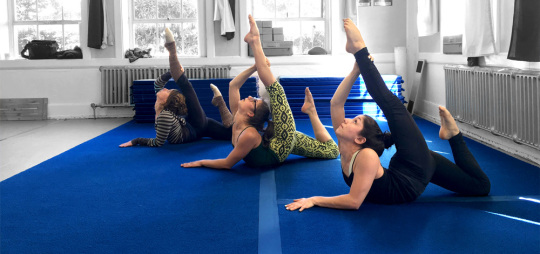 Unlike anything offered in the US, this four-week intensive not only increases students' flexibility and knowledge in Mongolian contortion, but develops and creates well-rounded performers. This program will focus on perfecting technique, developing personalized tools, and learning new skills to add to students' repertoires, as well as weekly workshops. These speciality workshops will deal with nutrition, character development, resumes, and helping students navigate the professional circus world upon completion. Throughout the intensive, students will work on developing individual acts, which will then be presented in a final showcase on the last day of the intensive. Any budding contortionists looking to enhance their technique while gaining knowledge of this business would significantly benefit from this intensive.

If you have any questions, you can contact our instructor Catie Brier at catie@circuscenter.org


INTENSIVE DIRECTOR & LEAD INSTRUCTOR: CATIE BRIER
Catie has been a resident of San Francisco for over 11 years. She began her training at Dance and Circus Arts of Tampa Bay over 17 years ago, where she studied dance and contortion. During her time there she trained under choreographer Debra Brown and contortionist Laurence Racine. Upon moving to San Francisco she started training with Master Lu Yi at Circus Center. She went on to train with Mongolian contortionist Serchmaa Byamba and began performing all around the United States. She's been seen performing with companies such as Quixotic Fusion, Circus Bella, Trapeze World and New Pickle Circus. Throughout her career Catie has developed a passion for not only teaching the art of contortion but also inspiring people to push the limits of their bodies. Over the last few years Catie has developed a thriving and entirely unique contortion program at Circus Center. This will be her 5th year directing the Contortion Intensive since establishing it in 2013.