RIGGING
FOR AERIAL PERFORMANCE & TRAINING

Circus Center's rigging guy, Jennings is presenting an important workshop for all those who would like to know more about aerial rigging. This introductory course in rigging will give you the tools to begin to rig individual aerial apparatuses safely for either performing or regular training.

Topics covered in the workshop include venue/space assessment, materials and safety checks, rigging techniques and practices, loads, capacities and ratings, using pulleys, as well as a few useful knots and how to assemble a basic rigging kit.

So if you're a budding aerialist, or you just want to know how to rig yourself safely, this vital fact filled workshop can help you get started.

Participants should be at least 16 years old and be capable of understanding self rigging concepts.


TOPICS WILL INCLUDE:
Venue/space assessment
Materials and safety checks
Rigging techniques and practices
Loads, capacities and ratings
Using pulleys
A few useful knots
Assembling a basic rigging kit
SUNDAY, JULY 9, 2017 | FROM 1:30 PM -3:30 PM | $55- All sales are final

BOOK
Please use book button provided here to purchase this workshop
or your spot may not be correctly reserved.

ABOUT JENNINGS
Jennings McCown is Circus Center's main rigger. His responsibilities involve the day-to-day maintenance of aerial points, apparatus and equipment as well as special rigging for shows and events. He has worked as a rigger for a number of performance troupes and entertainment companies in the San Francisco bay area, including Trapezeworld, Velocity Circus, Vau de Vire Society, Flyaway Productions, Zaccho Dance Theater and the IATSE Union of riggers and stagehands, Local 16.

Jennings was introduced to circus while attending Illinois State University, which had a small campus circus troupe. He caught the "circus bug" and, upon graduation, spent the next three years traveling and performing with various small circuses throughout the US. After a two-year stint teaching circus skills and flying trapeze at Club Med, Jennings joined the staff of Circus Center in 1999. Besides serving as the Circus Center's master rigger, Jennings continues teaching flying trapeze as well as trampoline, and performs with master acrobat Xiao Hong Weng in a spectacular hand-to-hand balancing act that has won over audiences throughout the Bay Area.
---
SAVE YOUR SHOULDERS

SHOULDER INJURY PREVENTION FOR CIRCUS ARTISTS


Saturday July 15th,2017
1:30 pm - 3:30 pm
$65/person - All sales are final
THIS WORKSHOP IS FULL

Please use book button provided here to purchase this workshop or your spot may not be correctly reserved.

Are you at risk for shoulder injury?

This highly interactive, two-hour workshop will lead you through a battery of circus-specific strength and flexibility tests to determine your injury risk during participation in circus activities. You will receive either a pass/ fail score on each part of the test, and will be instructed in specific exercises for the components that you did not pass. At the end of the workshop, you will have a comprehensive injury-prevention plan of exercises, mobility drills, and stretches that is specific to YOU and your body! You will also be instructed in the BEST warm up and cool down routine that will both optimize your athletic performance AND prevent future injuries!

Extensive foreknowledge is not necessary and there is no maximum age for this workshop, but students should be at least 16 years old so they can understand all the topics covered in the workshop.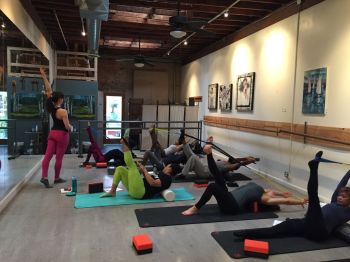 ABOUT JEN CRANE


Dr. Jennifer Crane is a physical therapist, athletic trainer, board certified orthopedic specialist, and published author. She has been a sports medicine professional for eight years, and has worked with a wide variety of athletes and performing artists throughout that time.

Most recently, she worked as a physiotherapist living in China with the Chinese Olympic Teams in preparation for the Rio 2016 Olympics. While in China, she worked with multiple sports teams: diving, weight-lifting, fencing, gymnastics, synchronized swimming, and track and field. Of the athletes she worked with, 18 of them went on to get an Olympic gold medal in Rio.

Now happily back in San Francisco, Jen's practice is based at Circus Center, where she specializes in injury prevention and treatment of circus artists. She works closely with performing artists of all specialties and all levels, from the brand new aerial student to professional acrobats, aerialists, hand-balancers, and contortionists. When she's not working with circus artists, she can usually be found standing on her hands, swinging on flying trapeze, or spinning on a single point trapeze.




CLUB SWINGING 101


with Jade Ford



Join Jade as he expertly breaks down and instructs us on how to Club Swing with best of them!

What is club swinging? Juggling clubs resembling plastic bowling pins are twirled very quickly from the hands around the head and body, and using a variety of patterns, complex swinging routines can be created.

In this workshop, Jade will show us how to swing the clubs, using correct form and body positioning. Adding different tricks together, more complicated patterns can be formed, which can lead us to mastering the basics of Club Swinging 101! Beginners will advance at their own pace and are not expected to work on more esoteric tricks, unless desired.

Through his many years of experience as a master in his craft, Jade can work with intermediate students and those looking for advanced help. Students wanting to explore similar apparatuses such as poi swinging or fire swinging, can also benefit from his focus on superior form, which easily translates to these other apparatuses.

Club Swinging is a rather venerable old sport, having appeared twice as an Olympic Sport, in 1904 & 1932, and has been considered as a precursor to the modern Olympic Rhythmic Gymnastics discipline. In the 19th & early 20th centuries it was a popular form of exercise with many public gyms having sets of swinging clubs available to anyone.

This workshop is open to ages 14 and up.
ABOUT JADE

Jade Ford started juggling in the mid 1970's. He learned from a pamphlet and didn't know any other jugglers for several years. When he did discover other jugglers, it opened a new world as he then discovered new juggling tricks, props other than balls, and different juggling forms. He began attending the International Juggling Association conventions, as well as local conventions like the juggling convention in Lodi, CA. Around that time, he took up club swinging which he had learned from convention workshops, but had mostly taught himself from the book called 'Club Swinging.'
Monday July 24th, 20176:30 pm - 8:30pm$50 - All sales are final
BOOK
Please use book button provided here to purchase this workshop or your spot may not be correctly reserved.