ABOUT CLOWN CONSERVATORY


Clown Conservatory is a multidisciplinary training program in physical comedy, precision idiocy and eccentric acting. This 24-week training program is a tilt-a-whirl of character creation and narrative clowning where the conjuring of solo, duo and ensemble work culminates in showcases for Ring, Stage and Film. Our program's directive is to foster the super-versatile Human Cartoon.



the future of funny is here.
"One of the top clown schools in the U.S."
– CLOWNS WITHOUT BORDERS
CLASSES & WORKSHOPS

Human Cartoon: The Art of Elastic
Performance Knockabout & Slapstick
Pantomime
Narrative Clowning
Classic Entrees, Gags & Lazzis
Neutral Mask
Buffoon
Juggling & Object Manipulation
Overall Circus Skills
Acrobatics for The Clown
Precision Idiocy: Micro-Crafting Physical Comedy
History of Clowns: Stand-Up & Fall-Down
Eccentric Dance
Character Morphing
Inanimate Comedy: Props, Gadgets & Machines
Symphonic Clowning: Music & Physical Comedy
Silent Film
And More Surprises...

Humanities-based readings & video watch list, allowing Conservatory students to explore themes & ideas accompanying each project and class.


learn from the best:

Steve Smith – Director, Big Apple Circus; Former Dean, Ringling Clown College
Judy Finelli – Former Artistic Director, Pickle Family Circus Dominique Jando – Vice President & Artistic Director, Lone Star Circus
Letitia Bartlett – Faculty, American Conservatory Theater
Doyle Ott – Artistic Director, Fairyland Theater; Sonoma State Faculty
Hilary Chaplain – Founding Member, New York Goofs; The Tempest (Bway & Central Park); NYU Tisch Faculty

Sara Moore is an award winning, critically acclaimed American clown. Known colloquially as "the Poet Clown of San Francisco," she brings to the leadership of Clown Conservatory over three decades of experience as a performer, director, educator and deviser. Her substantial body of creative work covers the full spectrum of clowning and spans multiple media, from the big top to film and stage, including Ringling Bros., The Krofft Puppets, New Pickle Circus, Make*A*Circus, cruise lines, multiple New York theatres, regional theatre, guerilla busking and as the comic foil in huge shows for Merv Griffin, who dubbed her "The New Fanny Brice." Hailed by critics as a "21st century Pagliacci," her trademark Human Cartoon productions include her effusively reviewed one-woman show Show Ho as well as Wunderworld, The Supers, Cyclones and The Secret Life Of Custodians.




SCHEDULE & FEES
The Clown Conservatory is a 24-week program in 2 sessions.

First Session: September 11 – December 7, 2018
Tuesdays, Thursdays, Fridays from 9 AM to 4 PM + Studio hours.

Second Session: January 8 – April 1, 2019
Tuesdays, Thursdays, Fridays from 9 AM to 4 PM + Studio hours.

SHOWCASE PERFORMANCES AT THE END OF EACH TERM.

Tuition: $6,000 + Volunteer hours (scholarships & work-study arrangements available)
Applications accepted on a rolling basis.



HOW TO APPLY

Please submit the following:


One cover letter

One headshot (or current photo) and resume

A 2-minute video of your funniest self, via link or DVD

Answer the "Proust questionnaire"

Application materials may be emailed to: saramoore@circuscenter.org or by mail at
Circus Center | Clown Conservatory Applicant | 755 Frederick Street, San Francisco, CA 94117.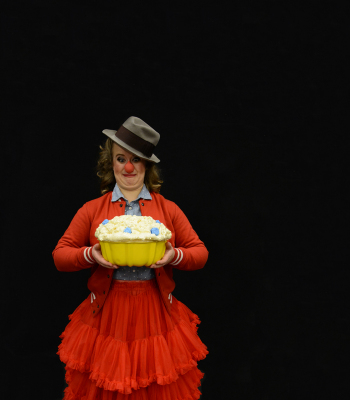 PRAISE FOR OUR DIRECTOR

"Quite truly one of the funniest, most ridiculously delicious humans I've ever encountered AND she is the hardest working clown in show business!"

– Merv Griffin, Entertainer, Game Show Creator & Entertainment Mogul

"Terrifyingly bright and verbal. Moore is a thoroughly post-modern mix of weird characters, funny voices, bizarre situations, a quirky theatrical synthesis of her idols, influences, and inspirations. Imagine Fanny Brice meets: Daffy Duck, Lucille Ball, Lily Tomlin, Laurie Anderson, Janis Joplin, Joni Mitchell, Carol Burnett, David Bowie, Lewis Carroll..."

– The Philadelphia Inquirer

"I have seen many of Sara Moore's solo performances, often going well out of my way to do so. It's worth it. She is fearless and utterly engaging in performance, combining physical dexterity, blazing intelligence, vocal acrobatics and mind-boggling juxtapositions to create comedic alchemy. Her pieces have the irresistible combination of being both utterly unique and completely recognizable. She is unquestionably on a par with all the great clowns; I believe it is only a matter of a very short time before a great many people know this. "

- Michael Butler, Artistic Director of Center Rep at The Lesher center For The Arts


"Sara Moore is simply the greatest thing to have happened to me. She taught a clowning master class when I was 19 years old, and within those three hours she had given me the key to unlock the door to The Silly inside, and helped me train it and use it to the fullest. She has the wild passion and intense drive of a mad fisherman chasing a whale. She laughs from within the depths of her soul when you do something right, and she willingly and lovingly hands you wings when you are afraid to fly. Her truthful love for all things silly is inspiring, and her reckless abandon for creative expression is nothing short of threateningly astounding."

– Molly Kate Taylor, ClownCon 2017 Graduate

"Moore is the consummate performer, never lingering too long on tragedy or comedy to bore us, always entertaining us—even when we are crying. Comic Kung Fu is a pretty good analogy."

– NYTheatre