Ash Rexford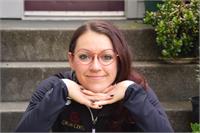 Growing up in Sarasota Florida Ash's love for circus began at an early age and evolved into a reality when she moved to San Luis Obispo, California in 2007. It started with circles, specifically hoops. First a big hula-hoop, then several little hoops, then aerial hoop, LED hoop, fire hoop, all the hoops! It was her love for performing with her hoops that either convinced or tricked her (depending on how you look at it) into quit her job and pursue her passion for circus arts full time. After that door was opened, Ash was able to follow her heart to her her one true love: contortion. Ash began training at Circus Center through Catie Brier's Contortion Intensive. It only took 2 summers for her to threw caution to the wind and officially to move to San Francisco. As part of the Circus Center community you can find her teaching contortion and flexibility, and working as the party and event coordinator. When not training contortion, hooping, or dancing you can find Ash, well... actually let's be honest, she's still probably somewhere dancing. Either dancing at a music festival, dancing on stage, or dancing at home with her doggy.
Ash Rexford instructs the following:
Designed to give students the strength and flexibility needed to build a strong contortion foundation, this class focuses on enhancing flexibility through Mongolian-based contortion technique, personalized stretching for individual needs, and active flexibility exercises. This 2 hour class will prepare you to safely learn chest stands, elbow stands, and over splits, or just help to make you have beautiful lines while upside down or in the air.




Pre-Requisite: Instructor Approval




Intended for students who want to incorporate power and control into their flexibility, Contortion Conditioning is an endurance and strength-building class that improves active leg flexibility, core strength, and joint stability while developing body awareness for advanced stretching techniques. Contortion Conditioning is a great compliment for aerialists, hand balancers, acrobats, and people of all circus backgrounds! For 60 minutes, students will be guided by instructors from our Contortion Department on drills to work the entire body, build up a sweat, and increase mobility.

Contortion Conditioning can be attended at any time by people of any age and fitness level. It is a recommended prerequisite for Advanced Stretching and a required prerequisite for Intro to Contortion, Contortion 1, and Contortion 2.




Learn essential stretches to help improve flexibility as well as gain an understanding of the basics of stretching. This class is best for students who are just beginning to stretch and would like to acquire a strong foundation to build on.