Michelle Cooper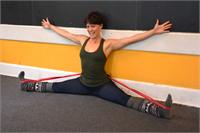 Michelle Cooper is a California native and has lived in San Francisco for over ten years. She loves stretching and shortly after beginning classes here at Circus Center, she was accepted into the Contortion program and began teaching the beginner and intermediate level flexibility classes. As an instructor, she tailors her teaching style to the needs of the students and believes that anyone can become more flexible using safe and dynamic techniques She focuses on proper alignment, paired with isometric stretching techniques and assisted stretches to quickly improve flexibility.
Michelle is a lover of animals and the environment! Outside of Circus Center, she can be found volunteering for multiple animal rescue nonprofits in the Bay Area.
Michelle Cooper instructs the following:
Learn essential stretches to help improve flexibility as well as gain an understanding of the basics of stretching. This class is best for students who are just beginning to stretch and would like to acquire a strong foundation to build on.




Intended for students who want to incorporate power and control into their flexibility, Contortion Conditioning is an endurance and strength-building class that improves active leg flexibility, core strength, and joint stability while developing body awareness for advanced stretching techniques. Contortion Conditioning is a great compliment for aerialists, hand balancers, acrobats, and people of all circus backgrounds! For 60 minutes, students will be guided by instructors from our Contortion Department on drills to work the entire body, build up a sweat, and increase mobility.

Contortion Conditioning can be attended at any time by people of any age and fitness level. It is a recommended prerequisite for Advanced Stretching and a required prerequisite for Intro to Contortion, Contortion 1, and Contortion 2.