Lin Junming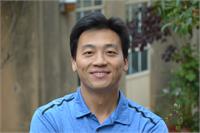 Lin started in the acrobatic arts when he was 8 years old in Fujian Acrobatics Troupe in China. With the troupe, he performed in circuses all over the world; Europe, the Middle East, Mediterranean region, Africa and Asia. In the past 20 years, he learned many traditional Chinese acrobatic arts, such as Chinese Pole, chair-balancing, hoop diving, Chinese Lion Dance, partner hand-balancing, hand-juggling, foot-juggling and Ultimate Wheel. His juggling performance was awarded a prize for Silver Lion at the fourth China National Acrobatic Competition in 1995. He also holds the former world record for juggling 12 rings.
Lin Junming instructs the following:

Tumbling is part of an acrobatic foundation. Students will practice body awareness and how to control their bodies in the air. This tumbling class offers three parts: warm up and stretching; ground tumbling skills like rolls, cartwheels and round-offs; and mini-trampoline. With this apparatus, students learn and practice all kinds of jumps and landing skills such as vaulting horse jumps and head-springs, etc.




Learn the basics of handstand, the foundation of circus. Students are introduced to the three pillars of handstand—thinner, lighter, more alive—and also practice the basic handstand form. Both acrobatic and aerial students can benefit from practicing handstands.




Build on the foundations and take the Chinese Acrobatic tradition to the next level. This class offers more detailed training on more advanced forms of stretching, handstands, conditioning, and tumbling.

Prerequisite: Instructor Approval




Learn the foundations of the ancient Chinese acrobatic tradition. These techniques are the building blocks for all circus arts. Focus is on integration, flexibility, alignment, strength, and control, with intensive work on kicks, stretching, handstands, and tumbling.

No Prerequisites.