Kiebpoli Calnek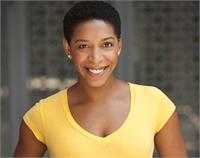 Kiebpoli Calnek is an actress, aerialist, and founder/artistic director of Black*Acrobat- a social enterprise that empowers fringe communities through the vertical world of aerial acrobatics and with devised theatrical performances. She is a member of the Lincoln Center Directors Lab, and of Actors' Equity Association. Her works received generous funding and support from Elizabeth Streb, Astrea Foundation, Asian Arts Initiative, and The New York Foundation for the Arts.
She trained at the Circus Space in London and with Kevin O'Connor in NYC. Kiebpoli taught and held aerial theatre performances at Aerial Arts NYC, Big Sky Works, The Muse Brooklyn, Dixon Place, The Kitchen, LAVA, The Skybox, STREB, The Zipper, P.S. 122, The Red Lotus Room, Irondale Center, 3-Legged Dog, La MaMa E.T.C.
Kiebpoli is thrilled to be teaching classes at SF Circus Center, coaching students utilizing constructive feedback, motivation, and patience while focusing on technique, form, and dramatic flourishes.
Kiebpoli Calnek instructs the following:
Specially created for new students, Intro to Mixed Aerials: Level 1 introduces participants to the basics of Aerial performance. This 90-minute class combines strength and technique training on Static Trapeze, Rope, and Tissu to develop the fundamentals of movement on Aerial apparatus. People of any age and fitness level can start Intro to Mixed Aerials: Level 1 at any time. Session enrollment is encouraged.

No Prerequisites.




Intended for new students, Aerial Conditioning: Level 1 is an endurance and strength-building class that targets core, arm, and leg strength, while developing cardiovascular and muscular endurance. This 90-minute class mixes ground conditioning with stretching and apparatus training to work the entire body, build up a sweat, and tone muscles for maximum strength and control. Students will work singly and in partnership on apparatus such as Static Trapeze, Rope, and Wall Rack to develop confidence in their own strength and coordination. Aerial Conditioning: Level 1 is a drop-in class, which can be started at any time by people of any age and fitness level.

No Prerequisites.




Students learn different ways to climb the silk and get stronger. They learn basic moves such as locks, holds, and drops.

Prerequisite: Instructor Approval

Recommended complementary classes: Aerial Conditioning, Stretching, Physical Limitation Elimination.