Amy Olson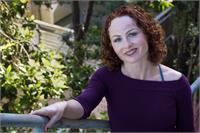 Amy Olson is a performance artist, circus arts instructor and licensed massage therapist based in San Fransisco, CA. Amy strives to make a connection to her audience through her love of movement and artistic expression. She is a graduate of New England Center for Circus Art's professional performance program with a major in Tissu and minor in Single Point Trapeze. She has performed and taught Circus Arts since 2010 to adults and children. Amy's explorations in performance and healing arts provide her with a deeply felt sense that assists her students to unlock physical abilities that are wanting to be expressed. It is a continuing mission for Amy to create a legacy of excellence and inspiration through her craft.
Amy Olson instructs the following:
Specially created for new students, Intro to Mixed Aerials: Level 1 introduces participants to the basics of Aerial performance. This 90-minute class combines strength and technique training on Static Trapeze, Rope, and Tissu to develop the fundamentals of movement on Aerial apparatus. People of any age and fitness level can start Intro to Mixed Aerials: Level 1 at any time. Session enrollment is encouraged.

No Prerequisites.




Students learn different ways to climb the silk and get stronger. They learn basic moves such as locks, holds, and drops.

Prerequisite: Instructor Approval

Recommended complementary classes: Aerial Conditioning, Stretching, Physical Limitation Elimination.