Zack Bodinger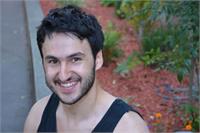 Zack Bodinger was first introduced to flying trapeze at summer camp in 2001. Having always loved climbing up high, he took an immediate liking to it and soon began training as a catcher. After spending several summers teaching at Trapeze School New York, Zack co-founded the Brown Aerial Arts Society in 2010, which provides students at Brown University equipment and instruction towards performances in tissu, single trapeze, double trapeze, aerial hoop, rope, and partner acrobatics. He moved to the Bay Area in spring of 2015 and has been thrilled with the warmth and positive nature of the circus community here! When not hanging from a bar, Zack can often be found climbing, playing frisbee, or in the kitchen trying to make a new recipe.
In Winter 2017, Zach teaches All Levels Flying Trapeze and Flying 2 on Monday nights.
Zack Bodinger is currently not instructing any classes.