Caroline Wright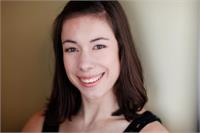 Caroline Wright took to the air before she could walk on the ground, climbing curtains, furniture and anything else she could crawl to.She spent her early teens performing with Flying Gravity Circus, a touring youth troupe dedicated to helping communities start their own circus programs.
A graduate of the Professional Track Program at New England Center for Circus Arts, she coached there for many years. Her teaching experience also includes SHOW Circus Studio, Circus Smirkus Camp and AYCO. She continued her training at the San Francisco Circus Center and L'ecole Leotard in Montreal, CA.
Specializing in Static Trapeze, Hoop and Tissu, Caroline performed with many different companies across the country and internationally, including The Big Aerial Show, Aerial Experience, AcroArts and Nimble Arts.
Caroline's passion for movement lead her to become a Certified Hanna Somatic Educator. In both her private practice and as a circus instructor, she uses her knowledge of the neuromuscular system to help others embody themselves more fully and achieve what they are capable of.
Caroline Wright instructs the following:
Aerial Conditioning: Level 2 is designed for intermediate and advanced students who have completed Aerial Conditioning: Level 1, or have previous aerial training and who wish to develop additional strength-based technique on aerial apparatus. This class builds on the strengthening curriculum from Aerial Conditioning: Level 1 to include moves based on timing, momentum and rhythm. Students will work singly and in partnership on apparatus such as Static Trapeze, Rope, Tissu, and Wall Rack to develop confidence in their personal strength and coordination.

Prerequisite: Instructor approval.




Students learn hanging and contortion positions, hoop rotation, and body drops and catches.

Prerequisite: Instructor Approval

Recommended complementary classes: Aerial Conditioning, Stretching, Physical Limitation Elimination, Contortion.