Oscar Velarde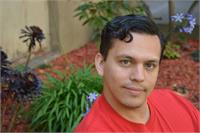 Oscar Velarde was born and raised in Los Angeles. Growing up he trained in various styles of martial arts such as Karate-do and Brazilian Jiujitsu. He was introduced to the circus arts through his family who own El Gran Circo de Mexico, where Oscar performed as a stunt clown. In his first year on tour, he was introduced to Diabolo and began to teach himself for years until he was able to compile enough tricks to become a feature act.
Oscar teaches Circus Skills Jam with Sabrina Wenske, an award-winning San Francisco-based theatre actor and deviser, primarily in clown.
Oscar Velarde is currently not instructing any classes.