Jade Ford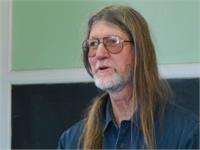 Born 19 Jan, 1947. Yes, I am incredibly old. Started juggling in the middle 1970's. I learned from a pamphlet and didn't know any other jugglers for several years. Then I discovered other jugglers. Better than that, I discovered new juggling tricks, props other than balls, and different juggling forms. I have attended many juggling conventions, IJA conventions and local conventions such as Lodi, when there was a Lodi juggling convention. I took up club swinging which I learned from convention workshops but mostly I taught myself from the book 'Club Swinging.' I moved to New Zealand in 1984. While there I was a professional juggler and street performer from about 1991 - 1996. During that time I appeared on New Zealand national television. I was in commercials and appeared on N.Z. 'Sale of the Century.' I also taught juggling professionally. I continued to work on club swinging and took up ball spinning. I returned to the U.S. in 1996 and began my association with the Circus Center. I ran Sunday night juggling from about 2000 until about 2012. I am known in the juggling community as a club swinger though my juggling and ball spinning are not bad. I have appeared a few times in the International Jugglers Assoc magazine 'Jugglers World' as a performer and presenting a couple of tricks.
Jade Ford instructs the following:
Experienced juggler or a newbie looking to learn? Come hang out at Juggling Club and collaborate in a fun, low-pressure environment with our experienced instructor. Bring your friends and play with our juggling toys: scarves, balls, feathers, clubs and more. All levels are welcome in this FREE club!

Everyone age 8 and older is welcome, however, all students under age 18 must have a parent sign our general release form, and children under the age of 15 must be accompanied by a parent at all times.

No prerequisites, no experience necessary.