Veronica Blair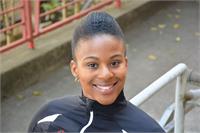 Veronica is a professional circus performer with over 15 years of performing and teaching experience. She is currently Head of Soft Aerial Apparatus at Circus Center in San Francisco, as well as Head Coach of the San Francisco Youth Circus. With an emphasis on foundational excellence, Veronica helps students develop proficiency and confidence that allows students to develop their own unique aerial style.
An aerialist of elegance and true excellence, Veronica Blair has studied with some of the most celebrated and prominent artists in her field, including trapeze great LaNorma Fox, Ringling Bros. first African-American Aerialist Pa-Mela Hernandez, and the renowned "God Father of the Tissu" Gérard Fasoli of Centre national des arts du cirque / Cnac.
Veronica started her acrobatic career at the age of 14 with Make*A*Circus, a community based circus. In addition she trained Chinese Acrobatics under Master Lu Yi with the San Francisco Youth Circus. Her first professional performance was at the age of 17, making her one of the youngest professional African-American trapeze artists in the U.S. Shortly after, Veronica was personally selected by Cedric Walker, the founder of the Universoul Circus, as a single trapeze artist. Under Mr. Walker's supervision, Veronica rapidly developed as an aerialist, and was the show's resident aerialist for 5+ years.
Veronica has since performed with several other renowned groups and productions around the globe such as AntiGravity, Universal Studios Japan and Warner Bros. Music. She has been a part of Germany's most successful circus show, "AFRIKA! AFRIKA!" Veronica also was the lead aerialist in KAMAU's "BooDha" music video with over 100k views.
Veronica Blair instructs the following:
In this introduction to Tissu, also known as silks, ribbons, and fabric, students are introduced to different climbs and basic moves including locks, holds, and drops. Through conditioning and flexibility exercises on and off the apparatus, students build the necessary strength and stamina to move on to more advanced skills. Special attention is paid to safety and proper form so that the student has a strong foundation on which to increase technical knowledge.

Prerequisite: Instructor Approval. Approval can take several days and can be obtained 3 different ways, instructions can be found here:

http://circuscenter.org/faq#training03







Tissu 2 students begin to combine the locks, holds, and drops learned in level 1 into longer sequences with an eye toward act development. Students continue to gain strength, flexibility, and grace through conditioning and stretching exercises on and off the apparatus. Individualized instruction allows each student to incorporate new skills and tricks according to their own rate of advancement.

Prerequisite: Instructor Approval. Approval can take several days and can be obtained 3 different ways, instructions can be found here:

http://circuscenter.org/faq#training03




Advanced tissu students focus on act development and more challenging tricks like double twise to ankles. Students continue work on transitions, timing, and maintaining grace and control though extended sequences. Coaching and feedback from our highest level instructors helps to prepare students for auditions and performance. Tissu 3 introduces the medium-stretch tissu, a different type of fabric that protects the body while performing high level drops.

Prerequisite: Instructor Approval. Approval can take several days and can be obtained 3 different ways, instructions can be found here:

http://circuscenter.org/faq#training03