Jeremy Sheets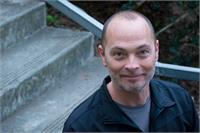 Born and raised in Gainesville, Florida, Jeremy started tumbling and dancing at age ten. Before moving to San Francisco in 1998 he was a soloist with Dance Alive National Ballet, with whom he has continued to perform as a guest artist, most notably as the Russian divertissement in The Nutcracker, and as the Swan in Carmina Burana. His dance training was a valuable asset in the development of his aerial skills, both as a performer and as an instructor. In addition to corde lisse (his aerial specialty) he also practices and teaches German wheel. He began his wheel training in 2002 at the Internationaler Rhonradturn-Verban in Valencia, Spain, and also has been under the tutelage of internationally renowned German wheel artist Wolfgang Bientzle. He has performed locally with the political circus group Circo Zero, and was an original cast member of Sweet Can Productions.
Jeremy Sheets instructs the following:
Students continue to develop various rope techniques, learn advanced tricks, and transition into routine development.

Recommended complementary classes: Conditioning, Stretching, Physical Limitation Elimination




In Rope 1, students learn basic skills on the rope. They work on building strength, control, flexibility, and discover basic locks and drops.

Prerequisite: Instructor approval

Recommended complementary classes: Aerial Conditioning, Stretching, Physical Limitation Elimination.