Miriam Telles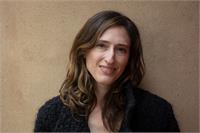 Miriam Telles instructs the following:
In this class students build strength through core, arm, and leg conditioning, while developing cardiovascular and muscular endurance. This 90-minute class mixes stretching and apparatus training with ground conditioning to work the entire body and tone muscles for maximum strength and control. Students will work singly and in partnership on apparatus such as static trapeze, rope, and wall racks to develop confidence in their own strength and coordination.

No Prerequisite




This class introduces students to the fundamentals of Aerial arts. With a strong focus on conditioning and proper form, students begin to learn foundation skills on the static trapeze, rope, and tissu. The fundamental movement vocabulary on these three apparatus will be directly applicable to hoop, sling, straps, and other aerial apparatus. Skills covered include foot key, hip key (tissu and rope), knee hang, basic beats, front balance on trapeze and more.

No Prerequisites




Learn to fly, swing, and spin! Students will learn Static Trapeze, Tissu and Hoop while they develop strength, flexibility, and grace.