Jim Donak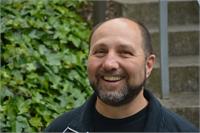 For over 40 years Jim has been studying and teaching movement and poise. He has been teaching movement and circus arts since 1980. In additional to teaching at Circus Center he maintains a private practice focusing on physical skill development musculoskeletal healing through the integration of Asian manual therapies, orthopedic and osteopathic bodywork, rehabilitation exercises and teaching related workshops.
Jim Donak instructs the following:
Designed for those who wish to increase functional range of motion as quickly as possible. In this challenging class, you will not only increase your range of motion, but also strengthen the structures that provide control and stability while in your maximum ranges. This is an excellent stand-alone class and is essential for those who want to excel in their acrobatic training. This class emphasizes injury-free techniques that deliver the most effective results.





No Prerequisites.




Learn the basics of handstand, the foundation of circus. Students are introduced to the three pillars of handstand—thinner, lighter, more alive—and also practice the basic handstand form. Both acrobatic and aerial students can benefit from practicing handstands.




Recommended Prerequisite: 30 second handstand against a wall; a pushup a bridge with 30 sec hold

This class is aimed at developing back bending skills for acrobatic and aerial applications.
It is intended to augment the current programs by offering a class that works specifically on the dynamic application of back bending skills for inversions, limbers, walkovers, tumbling, partner acrobatics and the like.
This class will include various learning methods with regard to increasing strength and stability, and range of motion throughout the "backend"




Handstand is the foundation of all acrobatics. This class is for more advanced students, exploring many variations of handstands including planks, one handed handstands, headstands and handstand pushups.

Prerequisite: Instructor approval




This class teaches beginning to advanced trampoline skills with an emphasis on safety, body awareness in space, and conditioning. Students will progress at their own pace and those who master the basic skills will learn inverted moves.

No Prerequisite- Some experience with trampoline preferred




A three-person maximum trampoline class allows the more serious trampoline student more time on the apparatus.

No Prerequisites.