Jiggidy Jives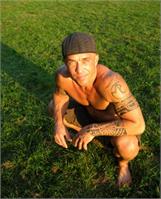 A jack-of-all-trades performer, Jives has been teaching acrobatics and flying trapeze at Circus Center for 14 years. He specializes in meteor bowls, acrobatics, and Chinese pole.
Jiggidy Jives instructs the following:
This class introduces students to the three pillars of handstand— "thinner, lighter, more alive"—by practicing the basic handstand form. Students focus on conditioning and flexibility exercises to strengthen the arms and upper body, and on techniques to improve balance and stamina. In addition to students interested in acrobatics, many aerial students find this class to provide complementary training of the upper body that is useful on aerial apparatus.




Build on the foundations and take the Chinese acrobatic tradition to the next level. Students continue to develop strength and flexibility while focusing on technique and mastery in handstands, tumbling, hand-to-hand, and other acrobatic skills.

For handstands, students will work on free standing handstand, variations of handstand press ups, and one-arm handstands.

For tumbling, students will work on back handsprings, back tucks, front tucks, side and front aerials. The small student:teacher ratio encourages students to progress faster thanks to hands-on, student-specific coaching.

Prerequisite: Instructor Approval. Approval can take several days and can be obtained 3 different ways, instructions can be found here:

http://circuscenter.org/faq#training03




In this physically intense class students will work on flexibility, balance, strength, and agility.

The class begins with a full head to toe warm-up followed by full body stretching. Students then focus on headstands and handstands for 30 minutes with various headstand positions and handstand drills. In the last 30 minutes students practice tumbling, starting from basic forward and backward rolls, up to cartwheels and round-offs.

More advanced students may move on to more challenging tricks like headsprings and handsprings.


No Prerequisite.




Build strength, endurance, and dexterity as you learn to climb, slide, and hold poses on the acrobatic pole. Students learn and practice skills such as monkey climbing, regular climbing, sitting, star, fish, and variations of the standard handstand and pull ups. Students of all levels proceed at their own pace with personalized coaching and conditioning exercises.
No Prerequisite

*Please Note* This class requires specific shoes- The Feiyue martial arts shoe is one example of an acceptable shoe and can be purchased inexpensively on Amazon.com. We have sizes 36, 38, 39, 40, 43, and 45 to loan, but we cannot guarantee that a particular size will be available in a class.