Xiaohong Weng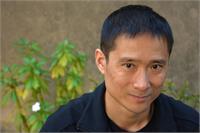 Xiaohong Weng started training in gymnastics at the age of 7, before he joined the famed Nanjing Acrobatics Troupe. He had 4 years of professional training in gymnastics and was a high level competitive gymnast in China. He joined the circus and learned many traditional Chinese acrobatics acts, such as Chinese Pole, Chair-balancing, Hoop Diving, Chinese Lion Dance, and Partner Hand-balancing. As a skilled tumbler and hand-balancer, Xiaohong has performed extensively in China, the USA, and internationally. For the last decade he has been a senior instructor at Circus Center. He currently performs with Jennings McCown in an elegant double hand-to-hand acrobatics act.
Xiaohong Weng instructs the following:
Build on the foundations and take the Chinese Acrobatic tradition to the next level. This class offers more detailed training on more advanced forms of stretching, handstands, conditioning, and tumbling.

Prerequisite: Instructor Approval




Learn the foundations of the ancient Chinese acrobatic tradition. These techniques are the building blocks for all circus arts. Focus is on integration, flexibility, alignment, strength, and control, with intensive work on kicks, stretching, handstands, and tumbling.

No Prerequisites.